Welcome to Cyan Star Morgans, breeders & owners of
Canadian National Champion Morgan Horses.
We are a small, family oriented establishment located between the towns of Port Perry and Uxbridge, Ontario, only one hour from Toronto.
Cyan Star Morgans started with one Morgan gelding in 1974 and has grown into one of the leading Morgan show barns in Canada. We occasionally have horses for sale. Nancy, David & Lisa are all Certified Instructor Of Beginners Saddle Seat coaches.
We are celebrating 43 years in 2017!
David is our resident trainer however as he transistions to a new career, he will no longer be accepting outside horses. We are proud to be returning to a home based and private Morgan show/breeding farm. We deeply appreciate all those who put their trust in us to train and show their horses over the past few years. But the time has come to close down the professional side our life and return to the original family establishment.
Lisa is a registered equine massage therapist: EQUI-LETE Massage Therapy. Please contact her directly to set up an appointment. Lisa is the Director of Education as well as the equine anatomy and physiology instructor at Darcy Lane School of Massage Therapy. She was recently invited to take part in a discussion on the Horse Industry at Guelph University to represent the equine massage field. It was quite an honour to be selected.
Thank you for visiting our website; Enjoy!
Updates were made May 16, 2017.
Brian & Nancy Kavanagh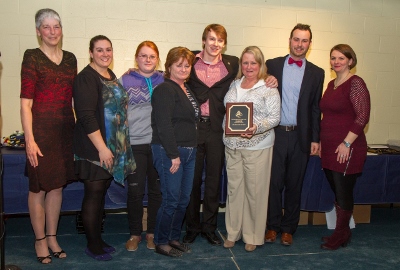 Hip Heath Avalon was inducted into the OMHC Hall of Fame on Feb. 21st, 2015.
Christine Monteith & Gen Kendell-Hayes presented the honour to the Ross/Kavanagh Families.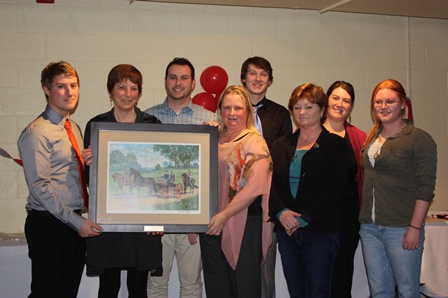 Gordon W. Joyce was inducted into the OMHC Hall of Fame on Feb. 1st, 2014.
A Jeanne Mellin Herrick print was presented to the Ross/Kavanagh Families
by Christine Monteith.