Welcome to Cyan Star Morgans, breeders & owners of
Canadian National Champion Morgan Horses.
WE SOLD THE FARM! What's next?
Cyan Star Morgans started with one Morgan gelding in 1974 and has grown into one of the leading Morgan show barns in Canada. We occasionally have horses for sale. 2018 saw big changes for us, we sold the farm in Port Perry and we our boarding a couple of our horses while our daughter and son-in-law have a few at their farm (Wicklow Way Morgans) in Ailsa Craig. We will still be out there with our Morgans on the show circuit in 2019 and looking forward to a new lifestyle.
We are celebrating 45 years in 2019!
David is busy family man and works full time in the horse transportation business for Ecclestone Horse Transport.
Lisa is a registered equine massage therapist: EQUI-LETE Massage Therapy. Please contact her directly to set up an appointment. Lisa is the equine anatomy and physiology instructor at Trios - School of Massage Therapy in London, ON. Lisa also works with our horses and is our main amateur rider.
Nancy retired as Office Administrator for The Canadian Morgan Horse Association after 20 years, November 2017. She is looking to spend a lot more time riding!
Thank you for visiting our website; Enjoy!
Updates were made November 10th, 2019.
Brian & Nancy Kavanagh, owners
(pictured with Cyan Star Trinity CH at their previous home in Port Perry)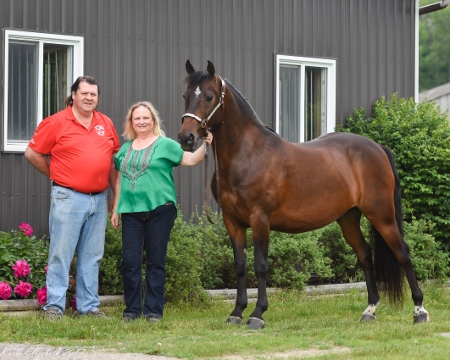 Congratulations to Cyan Star Trinity on earning his CH
designation from the AMHA Championship program!